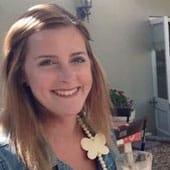 Natalie Kirby defines her coaching style as 'focused, driven and motivating'.
Natalie will support you in building your success and developing you towards your goal. She provides an open and calm space for her clients to feel nurtured and respected. She has the ability to offer compassion blended with the necessary firmness that ensures her clients are pushed to find their greatness.
Natalie has a track record of helping corporate and private clients to excel in achieving their goals and leverage coaching as the key to their ongoing success.

Name of Practice: Open Doors Life Coaching.
Where: Sunningdale, Milnerton, W. Cape.
Born: 1988.
Qualifications: BSC (Hons) Psychology; New Insights Certified PRO
Life Coach.
Specialises in: Work/Life Balance Coaching, Business Coaching,
Corporate seminars (one-to-one and group workshop coaching).
Unique Selling Proposition: Experience and understanding of the
pressures of corporate life, specifically those faced by women who juggle
the demands of a career and child care. Helping people solve the
challenges they face and enabling them to achieve success by restoring
balance in all areas of their life.
Fees:
R300-R399 per session. 10% discount for upfront payment for
the full coaching programme.
Coaching Body Membership:
No.
Contact:
click here

Natalie Kirby, New Insights Certified PRO Life Coach

Open Doors Life Coaching – Discover the Possibilities
At Open Doors Life Coaching my mission is to create a neutral, open and trusting environment, where people can be themselves and feel a sense of peace.
I take clients on a journey – emotionally and behaviourally – to discover their life purpose.
My vision is to inspire people to live their dreams and unlock their true potential. I provide the tools and support to gain the insights required to make necessary changes within yourself, encouraging you to create and maintain a balanced, fulfilling life.
"All our dreams can come true, If we have the courage to pursue them"
– Walt Disney
About Me

I have been a certified New Insights PRO life coach since April 2015 and a Bsc (Hons) Psychology graduate (2010). I was born and raised in Edinburgh, Scotland and emigrated to Cape Town, South Africa in 2013, where I now reside with my husband and two cheeky golden retrievers.
My career history so far has included working in international banking for 7 years. Within this time, I accumulated extensive experience and interaction with people across customer facing units. At the start of my career I worked predominantly with call centre staff in a training and development capacity. My transition to a Service Improvement Manager allowed me to make a difference in the call centre working alongside senior management and directors to improve staff performance and overall customer experience. Once promoted to a Senior Change Analyst, my platform extended to creating strategic relationships with stakeholders across divisions of a global business. Upon emigrating to Cape Town, I decided to return to my psychology roots where I feel I can make the most difference to peoples lives. I found a passion for developing people and I believe it is my purpose to use my experience and knowledge to make an impact on a broader scale.
Doing what I do, it is important to me that I conduct ongoing research to be at the forefront of psychology studies and practices. In addition, I engage in light reading and enjoy dance, keeping fit and playing golf as a past time. I also have a huge love of cats and dogs. I am currently volunteering at SANCCOB in Table View as a tour guide with African penguins and seabirds. I have also volunteered in a primary school for children with behavioral difficulties teaching dance.
My Coaching Services
1)    Work/Life Balance Coaching
Individual sessions which focus on gaining balance throughout all the areas in your life. These sessions are tailored specifically to your needs so that you get the optimum success and reward for your efforts. I work face to face in an agreed convenient spot for you or via Skype.
2)    Business Coaching
Business Assessment with the outcome of identifying key areas of potential business improvement and determining the coaching needs of staff.  The assessment is followed by one-to-one coaching for key staff members identified.
3)    Corporate Workshops
Topics of which include:
– Work/Life Balance
– Goal Setting
– Confidence Building
– Communication
The outcome is to: create goals and timelines for staff to grow and develop within the business, empower staff with confidence and motivation to deliver high standards, build awareness of self and projection and develop a greater understanding of how to communicate and deliver information (e.g. performance reviews)
My Coaching Style and Signature 'Treatment'
I am there as a coach to support you in building your success in your life or your business. My coaching style is not to hand hold – you are responsible for change in your life and in your business. This is the backbone of my signature treatment. I hold you accountable and will be there to ensure you stay motivated along the way. You will be taken on a journey of self awareness and growth to unlock your potential.
Typical Situations Where I Can Help
Individuals:
During one-to-one coaching sessions I help clients to create goals in a chosen life area which requires focus to get more balance in their life, for example, a career change or transition into a new role at work.
I also help people to gain a work life balance by focusing on other life areas such as their health or taking on new hobbies all of which improves performance in other areas.
For many, it's the coaching process of increasing self awareness and gaining more confidence and self belief that helps them to step out and become the best they can be and to enjoy great fulfilment in life.
The corporation:
I can work with key staff such as senior managers and directors, team leaders, clerical staff and customer/client service staff with the aim of:
Maximising the success of the organisation through developing and empowering it's people and improving their customer service
Providing tools and techniques to improve staff morale and performance
Feedback From Some of My Clients
"I have definitely become more secure in myself…I've enjoyed how open I have become in expressing my thoughts and feelings…coaching is a great tool to truly get to know yourself…It was exactly what I needed and I can't express the amount of gratitude I have for my coach and all the valuable skills I have learnt."
– Nandi M, Cape Town, ZA
"The coaching has allowed me to be more accepting of myself, to believe in me, to take charge and make the decisions I want with confidence…I have set goals and put things in motion. I have become more calm and pragmatic, more understanding…An eye opener, the logic of life brought back from within me to assist me in my journey."
– Arkaitz E, Edinburgh, UK
"It was great to have someone that you are accountable to, who challenges you to keep aiming at your goal…At the beginning of the process I wasn't sure which direction to go and by the end I had landed my dream job…Its been a challenging and fulfilling journey and I have grown in confidence and the ability to cope with challenging situations. Its been hugely valuable to have had the time to focus on where I want to go."
– Kate M, Cape Town, ZA
Next steps
I believe that I can make a difference in your life and your business, to help grow your people, motivate and inspire to do better.
My track record of coaching others into landing new jobs and transitioning to roles better suited to their skills and needs demonstrates my success as a nurturing coach.
Let me take you on the journey to creating a balanced business where people at the heart of it feel valued and committed.
Please feel free to contact me at Open Doors Life Coaching to discover the possibilities for your life and your business!
Request Me as Your Life Coach

To request me as your life coach, please enter your details on the contact form (making sure to choose my name from the dropdown list of coaches) on the Request a Coach page.
Name of Practice

:

Open Doors Life Coaching

Coach Gender

:

Female

Year of Birth

:

1988

Practice Location

:

Sunningdale, Milnerton, W. Cape

Coaching Medium

:

Face-to-Face, Remote (e.g. Telephone/Skype/Zoom, etc.)

Qualifications

:

BSC (Hons) Psychology; New Insights Certified PRO Life Coach

Speciality/Niche

:

Work/Life Balance Coaching, Business Coaching, Corporate seminars (one-to-one and group workshop coaching)

Unique Selling Proposition

:

Experience and understanding of the pressures of corporate life, specifically those faced by women who juggle the demands of a career and child care. Helping people solve the challenges they face and enabling them to achieve success by restoring balance in all areas of their life.

Languages Spoken

:

English